Visitors Information
On this page, you will find general travel information for your visit to Pride Amsterdam. For specific location information, please visit the website of the relevant organization. Make sure you plan your trip to Pride Amsterdam via 9292ov.nl.
By train
Most activities take place in Amsterdam city centre. The easiest way to get there is to travel to Amsterdam Central Station. For the Canal Parade you can also travel to Amsterdam Amstel Station and walk to Theater Carré. There you will have plenty of space to view the parade.
For up-to-date travel advice please visit the NS website. We expect many visitors during the Canal Parade so we advise you to be there early.
By car
During the Canal Parade, certain parts of the city centre will be closed for traffic. The entire Prinsengracht is car-free and parking on the Prinsengracht is forbidden from Saturday morning 1AM until Saturday midnight. Because of this, there will be very little space left in the parking garages nearby.
We do not advise travelling to the city by car for the Canal Parade, however, should you want to come to the city by car we strongly advise you to reserve a parking space in advance. You can reserve a parking space in one of the secured parking garages of Q-Park in the centre. There are also Q-park parking garages on the outskirts of the city from where it is easy to travel to the city centre by public transport.
You can also park your car at the end of one of the tramlines. The tram will take you directly to the city centre. Usually, parking on the street in these neighbourhoods is free.
By subway
If you're coming by train/subway, please make sure you travel with the North-South line in Amsterdam. As soon as you're at Amsterdam Central Station or Amsterdam Station South, subway 52 is right around the corner. In 10 minutes you need to hop off at Station Vijzelgracht to get the best spot during the Canal Parade.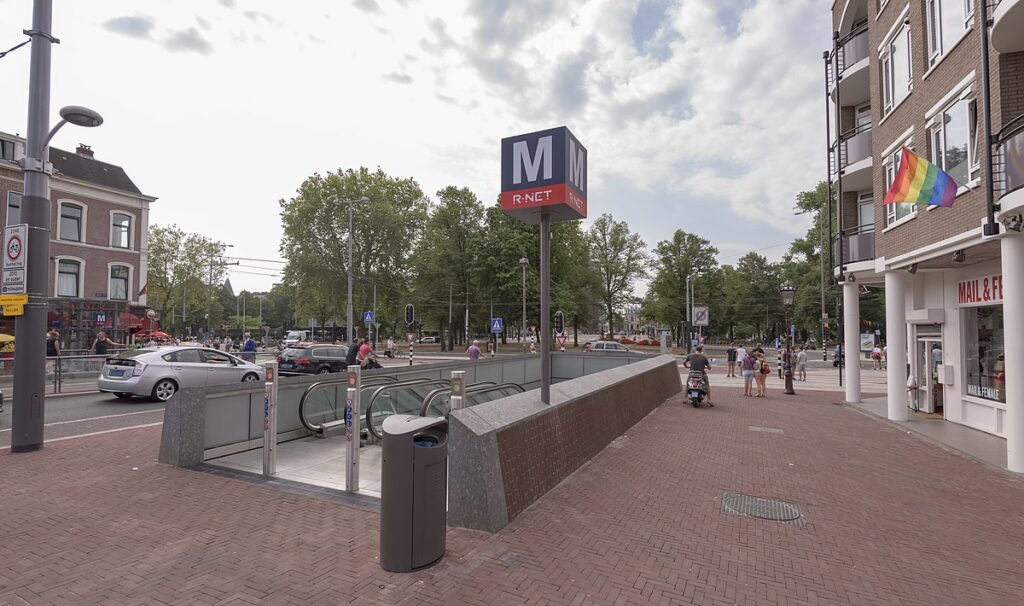 More info at https://www.gvb.nl/
By bike
The best way to travel to the Canal Parade is by public transport or on foot. Should you arrive by bike, please make sure you place your bike in one of the designated bike racks. Please note that many places usually available for parking your bike are not available during Pride; these places are marked with yellow signs. If you place your bike there, it will be cut off and taken away by the municipality. Is your bike gone? Call +31 (0)20 334 45 22.
During Pride, we as an organization, provide 1,500 additional bicycle parking spaces on the Frederiksplein. On Sunday the racks are removed and bicycles that are still attached are cut-off and left behind. Costs for chain replacement are not reimbursed and we are not responsible for any theft.
Keep our Pride clean!
We're very proud of our city and of course, we're trying to keep it as clean as possible during the festival! As you can understand hundreds of thousands of people can create a real mess. Please help us to keep it as clean as possible. Always make sure you drop your garbage in one of the garbage bins and if you're not close to one, please keep it with you in or in one of our garbage bags until you see one. Thank you!
In Amsterdam, we use the toilet!
As an (event) organization we're always trying to set up as many toilet areas as possible. Sometimes you need to walk a bit further to find one and of course we understand this could be an issue if you really need to go. But please keep it in the toilet, don't urinate on the streets, against doorways, cars or anything. It's not respectful to the residents and owners. So keep it decent and find one of our toilet areas!
Besides that, you need to know it's illegal by law in The Netherlands. If the police catches you, you'll receive a fine of €140 euro
Younger than 18?
Younger than 18? Don't drink alcohol. In The Netherlands, it's illegal to drink alcohol until you're at least 18 years old. Want to know more about our Pride youth program? Check out Youth Pride.
Celebrate Safe
However nice parties are, it's never completely without risk. So, stay informed and know what these risks are, from blisters or hearing impairment to the risks of using alcohol and other drugs. More information about limiting these risks, drugs policy and the ability to test your drugs can be found by Click here